---
Closing Down Sale
16th July 2022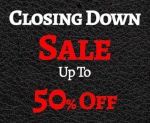 Our sale is so busy our usual response and dispatch times are being delayed
We are very grateful to our customers for helping us out in our closing down sale. Our dispatch department has been working very hard to ensure orders are processed as quickly as possible.
We are currently taking four to five days to dispatch orders. We will contact you within one working day if there is any problem with your order.
We are grateful for your patience during this time.
---
If you enjoyed this article - please share with your friends...