---
Understanding Suede Part II
18th June 2021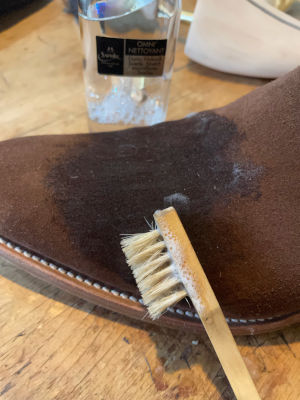 In this concluding part of our review of suede care, we show you how to revitalised stained, dirty and faded suede.
As discussed in the previous part of this article, once you have a good brass brush and a protection spray, you are ready to keep your suede shoes in pristine condition and tackle most cleaning challenges that a pair of suede shoes will present.
However, there are certain difficulties which these trusty tools will not resolve on their own. It is fortunate therefore that there is a wide variety of products aimed at helping to renovate suede and remove stubborn stains.
We will start this part of the article by following the progress of two pairs of suede shoes undergoing renovation. You will see they feature a combination of stains, discolouration and thick, in-grained grime.
The Blue Driving Shoes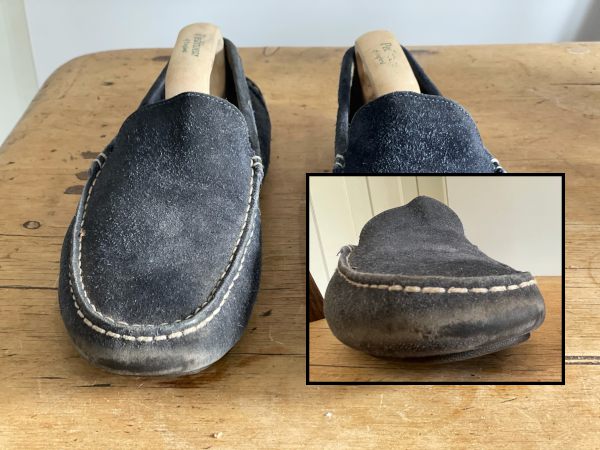 and The Brown Chelsea Boots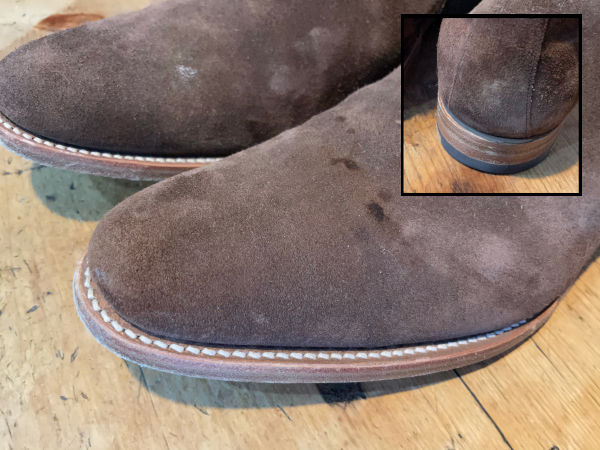 It is still important to start with a good brush to remove any excess dust and dirt. In the image on the left below you can see the improvement simple brushing with a brass brush has made. Once this has been done the rest of the job might be tackled as follows:
Stains/Discolouration
Stains such as those pictured on the left below. Try mild solvent such as Saphir Omni Nettoyant or other cleaning aerosols.
You can see the Saphir Omni Nettoyant having been applied using gentle action with the supplied soft brush on the right image below.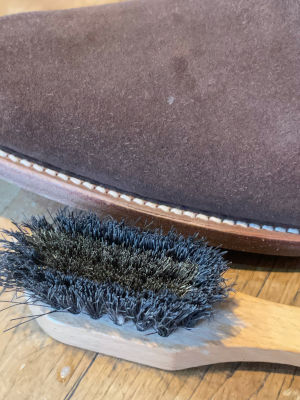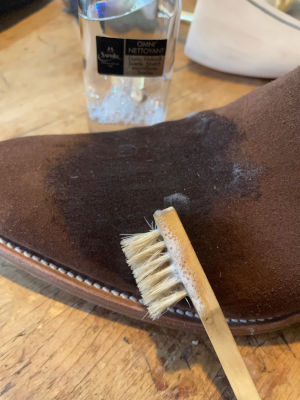 Ingrained Stains (Not Responding to the Above)
Crepe Brush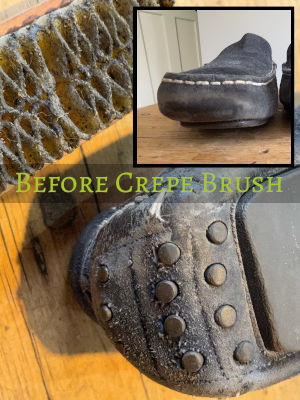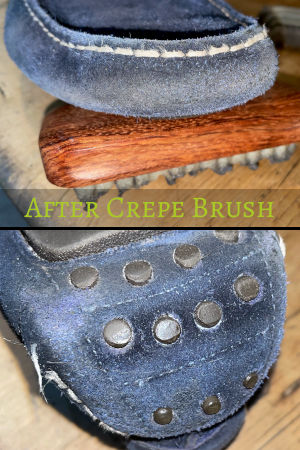 The crepe brush is a personal favourite. The pure crepe 'bristles' are a pure form of rubber. This adheres to the dirt and stains within the nap of the suede and then rubs off taking the dirt with it. It is quite remarkable what can be removed from a dirty suede shoe leaving remarkably clean suede nap behind. Be careful in warm climates - it may become too sticky and might benefit from a spell in the fridge. The above shoe has been subjected to an unreasonable level of abuse, and might have been considered beyond repair - yet the images on the right show the result of careful firm brushing with a crepe brush.
Eraser / Saphir Gommadin
As well as using the crepe brush on heavily soiled shoes, smaller areas of ingrained dirt can respond well to the use of a slab of coarse rubber functioning much the same as a pencil eraser. The Saphir Gommadin was used for some areas on the above shoes - we find they excel when giving attention to a specific localised stains or marks.
Coloured Aerosol Renovators
Perhaps the most dramatic effect can be obtained using the coloured renovation products. Saphir offer these in both their Medaille d'Or and Beaut de Cuir (BdC) ranges. Here we found the navy blue from the BdC range particularly effective. They can lift tired or faded colours to almost new. Be careful with contrasting stitching or leather areas - masking tape works well to protect these areas prior to spraying.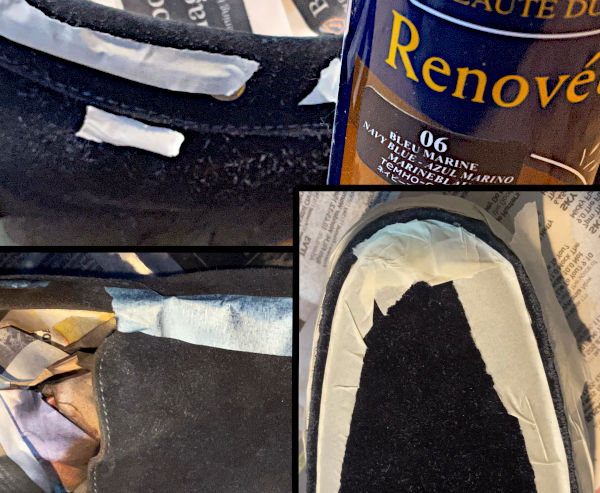 Unfortunately, due to the flammable pressurised nature of the aerosols, we are not able to ship the renovating sprays - but if you can get hold of them locally, it will be well worth the investment. We hope you will agree, the combination of products has made a considerable difference to this previously abused and neglected pair of suede loafers.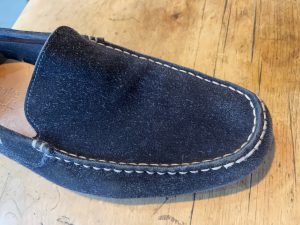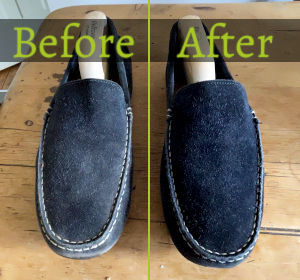 And these brown boots no longer look like they need adopting by a suede rescue agency?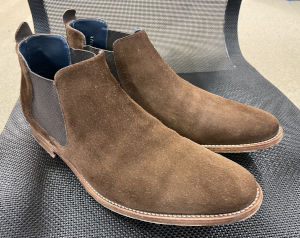 ---
If you enjoyed this article - please share with your friends...