About Pediwear
Pediwear Shoe Centre is a small, friendly, family run business which began in Halifax (UK) in 1976.
Our website was set up in 1998 ahead of many of our competitors. Online customers enjoy detailed and prompt responses to their enquiries as well as to Shoe Orders. However, it is the fact that we successfully compete with huge organisations on Shoe Prices and Delivery Prices that is giving Pediwear a growing reputation for Value as well as for the family business tradition of personal service.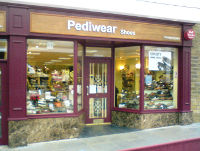 ---
The Pediwear Approach
A different approach to online retailing
Our customers are individuals with differing requirements and tastes, and are treated as such – Pediwear is a family company, always striving to give each customer the best possible service with a personal touch, and your satisfaction is our goal. You are a person, not just an order number, and we always remember this.
We aim to confirm all orders within 1 working day, and give an indication of the anticipated delivery date.
We provide all our customers with tracking numbers for their orders by email at the time of despatch. These numbers are also available within customer account areas on the web-site
Our 30 years experience in our retail shop helps us in advising customers as to the suitability of styles for their particular requirements.
Thank you for your interest in our company, and we hope to be of service to you in your search for quality footwear at competitive prices.