---
Edward and James Winter 2021 - 2022 Part I
17th November 2021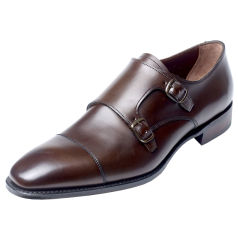 This season's Edward and James is more wide-reaching than ever - with some stylish new additions to both causal and formal styles.
We will kick off this review with a look at our Principal range - and in particular, our Oxfords and monk shoes.
Isaac the Double Monk
Isaac is one of two new additions to our Principal range made in partnership with Cheaney. As with the popular Parkside, we have taken existing Cheaney lasts and patterns and upgraded the specifications to match the Imperial Collection.
Lofthouse the Oxford with Dainite Sole
Similarly, the Lofthouse uses the exact premium Imperial Range specifications but adds a practical Dainite sole. We added this style during the summer because of its lighter colour - but its rubber sole ensures you can continue wearing it during more wintery weather. Why not let the Lofthouse bring a little colour during the dark months of winter?
The Alex Last
Our own last, 'The Alex', has been used to re-create popular styles in our Principal Collection - including the John and Philip, now dubbed John 2 and Philip 2 - and shown below.
The Alex last presents contemporary angular lines at the sides of the vamp along with an almond-shaped toe. Fans of the previous last should not fear since the actual shape is similar and the fitting is almost identical. For most customers, The Alex last fits true to size. The Alex Adelaide brogue was the first in our range to feature this last - also shown below.
The Phillip is also now available in black.
Contemporary Range Boots
Ready for winter, these popular styles have all been restocked. All four feature genuine Dainite rubber studded soles and the Wilkinson is available in both the rich tobacco uppers (as above) and a lighter whisky colour.
---
If you enjoyed this article - please share with your friends...